It can be a worrying time when you think you are ill or you are told you need treatment. We are here to help you go through this process as quickly as possible, and in a way to minimise any discomfort or concern. We support patients from the moment they tell us they have a symptom, whether it is going through diagnostics to provide reassurance, or establishing what their treatment plan is, and following this through.
Our team came together to allow us to provide a comprehensive and coordinated urological service. No matter what aspect of urology you are looking for, our team will be able to help. Even more, our consultants are leaders in particular treatments, so you can be reassured that you are being looked after by the best and you are in the right place for what you need.
Our Approach
Coordinated care:
The combined experience of our consultants allows us to assess patients and see who is best placed to provide your treatment and care. This includes looking at how quickly you need to be seen, as well as the type of service you require. Our approach helps us to assess which of our consultants is most able to help you. Furthermore, should you require additional services then other team members can step in to help, offering streamlined and coordinated care. The main focus is on your needs, rather than any other factor.
High-quality treatment:
Once we have identified who is best to support you, we can ensure that you receive your treatment in a safe, clinical setting. It will be provided by one highly trained surgeons; all of our urology consultants are trained in the very latest skills and non-invasive techniques that can minimise risks, improve outcomes or reduce recovery time. We will discuss any treatment plan with you to ensure that you understand what it involves and to answer any questions you may have.  
Specialist care
Our urologists are highly trained and all offer general urology surgery, but each have their own sub-specialisms that they focus on and are experts in. This allows them to provide a higher level of care as well as progress in their respective fields of excellence. From kidney stones to prostatectomies, our team has the expertise and specialist experience to help. We work across East Anglia, supporting patients whether they are in Essex, Suffolk or further afield.
Quick and flexible appointments
Getting a quick NHS appointment can be difficult, especially if you have a busy working and family life. We offer different clinics across Essex in Colchester and Chelmsford and can provide prompt appointments at short notice. This not only gives you peace of mind, but can ensure your recovery is not dictated by a waiting list.
Where we work
As our name suggests, we work across East Anglia, delivering urology services in Colchester, Chelmsford, Southend and Ipswich. Our hope is to provide our patients with access to quick care, and we are ready to work around them. Whether you are looking for a urologist in Essex or Suffolk, we will be able to provide the treatment you require. We are also happy to discuss what you are looking for if you are based outside of East Anglia. The most important thing is for you to receive the medical treatment or support that is best for you.
The hospitals we work with are easily accessible for patients across the region. If you have a particular request but you are based elsewhere in the UK or abroad, simply get in touch and we will do what we can to help.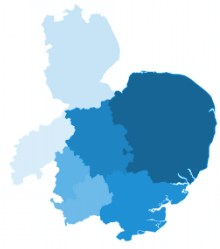 Our specialists
Our lead consultants all have expertise within different fields across urology, allowing them to provide a comprehensive level of service and care for the patients they treat. This also offers an integrated approach, giving continuity where it may be needed.